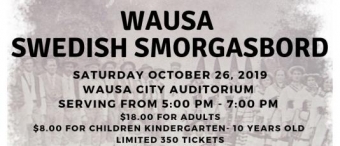 October 22, 2019
The community of Wausa will be hosting their 76th Annual Swedish Smorgasbord this upcoming Saturday, October 26. Food will be served from 5-7 p.m. at the Wausa Community Auditorium. Joni Burns and Cristi Munter head the event and Doug Johnson sells tickets. Tickets must be purchased in advance and there is a limit of 350. Tickets are running low so if interested call Doug at 402-586-2266. Ticket prices are $18 for adults and $8 for kids aged kindergarten-10 years old.
Members of the community make the food with some of the meats coming from the Wausa Locker. The menu is comprised of traditional Swedish dishes including potato sausage, meatballs, scallop potatoes, and ostakaka which is a Swedish custard. Some community members serving food dress up in traditional Swedish attire. This event used to be held at the Church but as more community members wanted to celebrate their Swedish heritage the event moved to the Community Auditorium.
Some community members will also perform Swedish dances for entertainment. Proceeds from the event will go towards various community projects as well as scholarships for high school students.
Johnson expects tickets to run out soon so to reserve a spot call him at 402-586-2266 or email him at doug.johnson@wausabank.com.